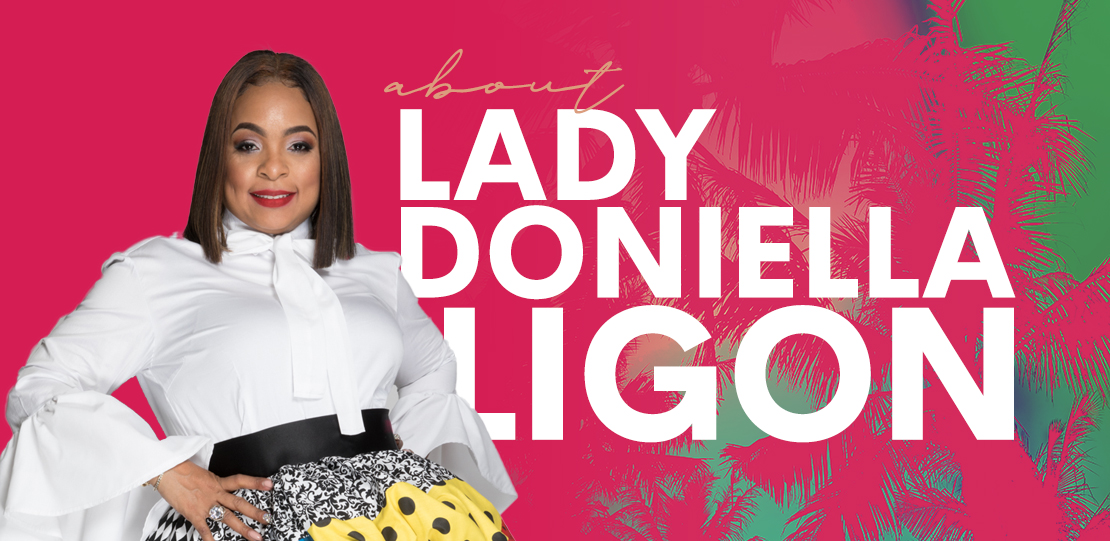 Meet Lady Doniella Ligon
Lady Doniella Ligon came to know the Lord at an early age, led by the example of her mother, Ossie Mae Dale and her grandmother, the late Odessia M. Mayes.  Being raised in a Christian household, there was never a doubt that Lady Ligon would one day play a vital role in ministry.
Because of her strong family ethics and strong love for children, Lady Ligon has been a licensed child advocate for over twenty (25) years. Not knowing that this was preparatory ground work for the path that lay ahead, not only a disciple for Christ but also a Pastor's wife.
Lady Ligon has purposed in her heart that her main focus in ministry would be to assist women as well as those who have various chemical and alcohol dependences, since she herself has been delivered from drug addiction through the "MIGHTY" Hand of God!
Being led by the Holy Spirit and desiring to help others in a crisis, she has since concentrated her efforts to assisting women in recognizing their God given abilities, by way of spiritual growth through creating a personal and intimate relationship with God. Also instilling in them that they can do all things through Christ; including abandoning a life of destruction and despair through the healing power of the Holy Ghost. Speaking from the heart of her own experiences as a mother, wife, sister and friend, she has the unique ability to connect with women from all walks of life. She has accepted the call to help women develop their self-esteem and self-worth.  While seeking God's Face, Lady Ligon birthed W.I.N. (Women In Need) Ministries to help cultivate her God-Given vision to minister to Women in need, to encourage them and empower them to know their value and worth.
Through the unceasing grace and mercy of God, Lady Ligon will continue in her efforts and pursuits in pressing toward the mark of fulfilling every task that the Lord has assigned for her to do. She is a motivational speaker, life coach, bible teacher, worship leader and dance instructor, all of which is an expression of her love relationship with the Lord Jesus Christ.
She is a member of the Women in NAACP; 2nd Vice President of the Women's Ministry at the Progressive Baptist Association, 1st Vice President of the Minister's Wives Ministry at the Progressive Baptist Association.   Lady Ligon has been the recipient of the following: 2018 Phenomenal Women of the Year Award, 2018 Women Working on Winning Award, 2018 Who's Who In Black Cleveland, 2017 City of Cleveland Black History Month; "Cleveland Heroes, Poverty to Power" Award, 2017 Who's Who In Black Cleveland and recognized in 2016 with the Women of the Year Award, Progressive Association
The scripture that motivates and inspires her most is Romans 8:28: "And we know that all things work together for good to them that love God, to them who are the called according to His purpose." She is often identified by the saying… "It may not feel good while it is working, but it is working for my good!
Doniella is married to her favorite Preacher/Teacher and best friend, the Honorable Pastor A. Charles Ligon. They have nine children: Woodrina, Shanna, Miya, Shanice, DeShanelle, D'Angelo, Deja, Denzell and Mercedes; eight granddaughters: D'Yanna, Tameeya, Shanice, Zoey, Kacey, Kemora, Shanelle, and Paris; five grandsons: Kevin Dwayne, D'Angelo Jr., Kenneth II, Dustin and Samajh; and a daughter in ministry: Lady Haley Jae Sykes.